If Santa had a say in the climate debate, he would definitely be a climate activist. The rise in temperatures due to global warming happens twice as quickly at the North Pole, and if temperatures continue to rise according to current projections, Santa's home would be diseappear into the Arctic Ocean before the end of the century. So unless drastic progress is made, Santa may well end up homeless before long.
And even if he finds somewhere else to live, the options of places he could go where there's enough snow for his sleigh to operate is limited: global terrestrial snow cover is decreasing.
Rudolph and friends are also going to be in trouble; a study has shown that reindeer have been getting smaller over the past few decades due to warmer temperatures, and the population of wild reindeer has more than halved in the last two decades. Part of the reason for this could be the fact that warmer temperatures cause more rainfall, and when rain freezes on top of snow, it locks away the preserved vegetation that reindeer can usually access by scratching away snow. With not enough food, reindeer are born smaller and weaker and are more likely to die early.
It's not only Santa and his entourage who are going to be affected; Christmas tree crops across Europe are failing every year due to higher temperatures. In 2018, heatwaves wiped out one third of the crop of new Christmas trees in the UK.
All in all, things aren't looking good for Santa and his annual tour of the planet. In order to save Christmas, we need to change Christmas; if we want to hold onto those warm moments of spending time with friends and family around the Christmas tree while the snow falls outside, the world needs to stop buying and wasting so much during the festive period. It's estimated that waste in the UK increases by 30% during the Christmast period; indeed, 5.5% of the UK's annual carbon footprint results from just the three days around Christmas. We buy ugly Christmas jumpers we wear once to a party and never again; we buy presents that never get used; we buy more food than we can eat or keep. But if you ask anyone what they value about Christmas, it's most likely none of these things - what we really want is time to take a break, reconnect and chase away those winter blues with laughter and great company.
So here are some ways you can make your Christmas greener and better for the planet, without compromising on the Christmas spirit (spoiler! 'Bah, humbug' isn't the only answer).
Real or fake trees - the eternal debate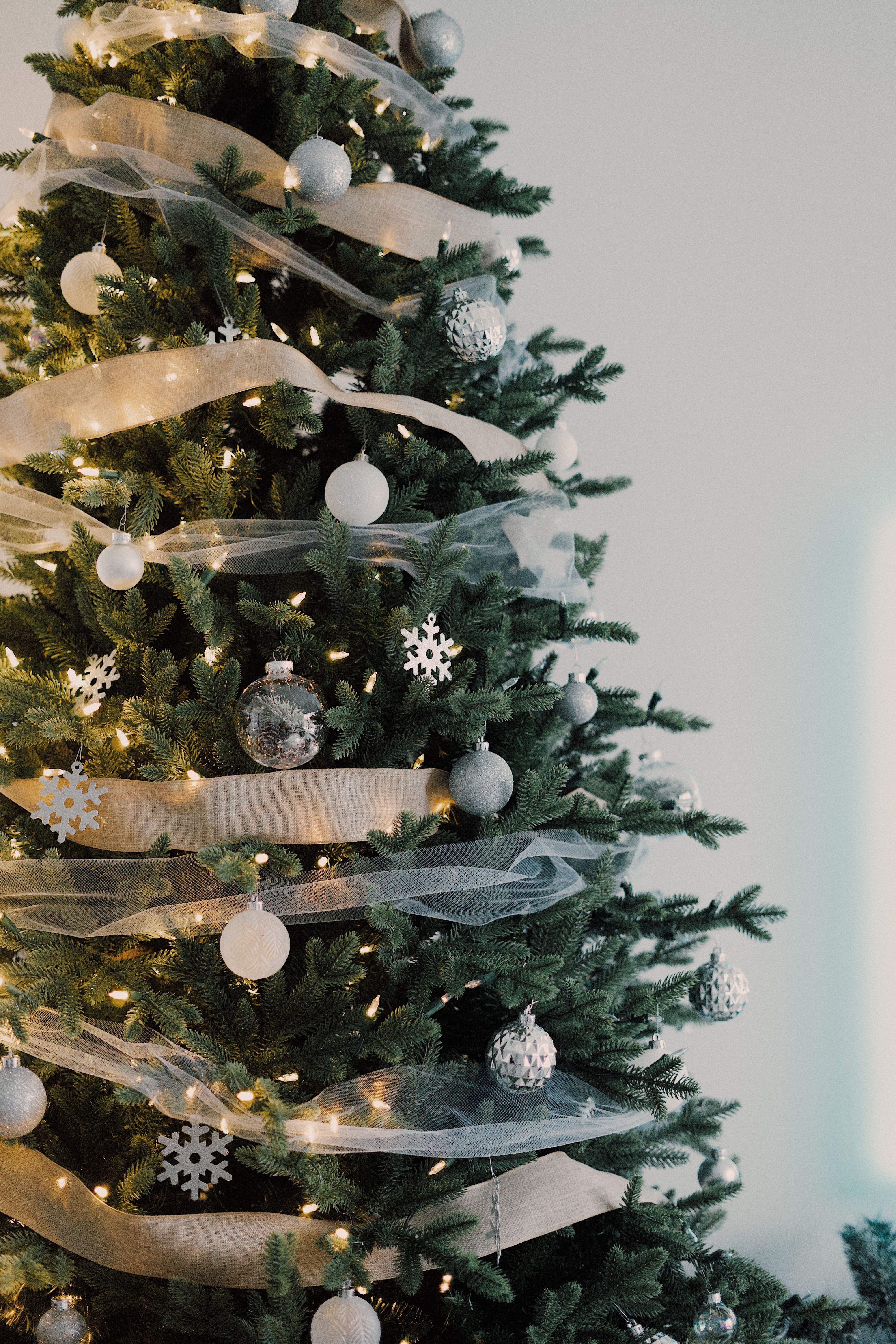 Since the advent of the artificial Christmas tree, there have been disagreements on whether they're better for the environment than real trees. Real Christmas trees might seem appealing because of the carbon they capture and their biodegradeability, but since they're cut down quite young it's unclear whether they actually remove carbon from the atmosphere (it's suggested that trees overall don't take in more carbon than they've released until they're 20 years old). In addition, Christmas tree plantations can reduce biodiversity and often use powerful pesticides.
On the other hand, fake Christmas trees are often made of PVC and are difficult to recycle, and continue to contaminate the environment for a long time after they're discarded. They tend to be made in China and shipped overseas.
According to the Carbon Trust, the carbon footprint of a two-metre artificial tree is 40kg. A real two-metre tree without roots which goes to landfill is estimated to have a carbon footprint of 16kg, due to the tree releasing methane as it decomposes. This is in contrast to re-planting the tree or using it to made wood chips to spread around the garden, resulting in a carbon footprint of only 3.5kg.
In general, these figures suggest that an artificial tree would have to be used over 10 times in order to beat the carbon footprint of getting a new real tree every year. However, the estimated average use of a fake tree is only 4 years.
What complicates the carbon footprint figures is uncertainty in their accuracy and in how much carbon dioxide trees can actually capture, as well as external effects on ecosystems and the effect of transport.
All things considered, a good solution seems to be getting a real potted Christmas tree with roots, which can be used year after year - just keep it outside in the garden during the rest of the year, and bring it into the living room in December. This increases the lifespan of the tree, as opposed to buying a new cut tree every year, and increases the amount of carbon the tree is able to capture. It also reduces transport emissions and land use for growing and delivering new trees.
Are candles a better way to light your home?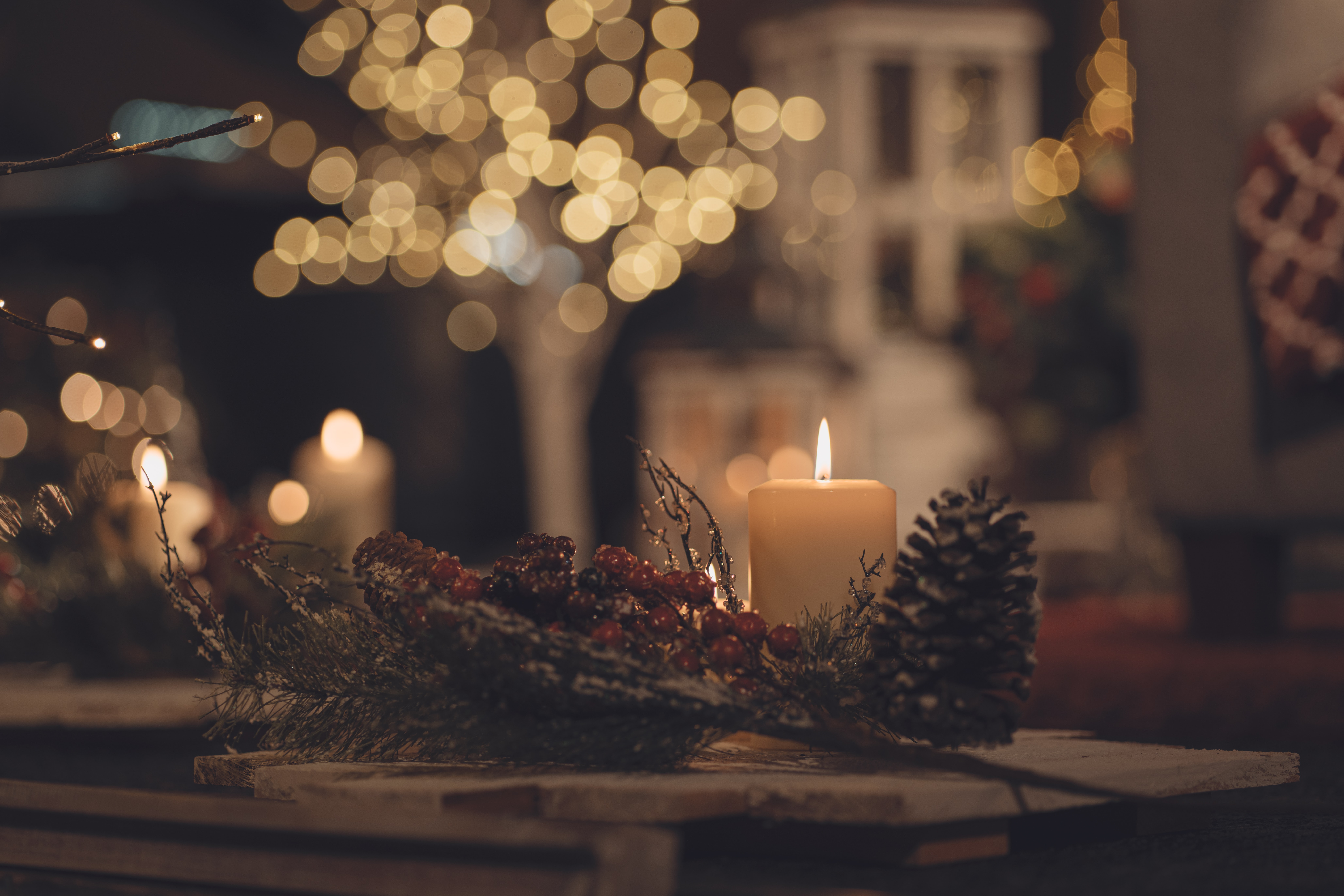 Most candles are made of paraffin, a heavy compound derived from crude oil. Burning a candle for one hour is estimated to release 10g of carbon dioxide. A single incandescent 60-watt lightbulb could emit anywhere between 20g and 60g of CO2 per hour - so if you're replacing standard ceiling lighting with candelight in the evenings for that cosy, atmospheric Christmas mood, switching off the lights and burning a candle instead is likely to reduce your carbon footprint. (Of course, this depends on how many candles you're burning!)
However, some forms of electric lighting are much more efficient than a standard bulb; LEDs use around 75% less energy than incandescent ones and last 25 times as long. Even though they're slightly more expensive, the amount you save due to lower energy bills far outweighs this. So when it comes to choosing fairy lights for the Christmas tree, it's always better to choose LED bulbs, and to keep them to reuse year after year.
By switching off the lights and using candles on winter evenings, and always choosing LED fairy lights, you can reduce the carbon footprint of lighting your home on the inside. However, there is an even more obvious way to dramatically reduce your environmental impact: say no to extravagant light displays on the outside of your house. Although they might make your house the talk of the neighbourhood, the glittering reindeer and flashing santas on your rooftops, walls and front lawn can release some 400kg of extra CO2, and cost you an extra £75 to £100 per hour during the period they're switched on.
Festive wrapping without the waste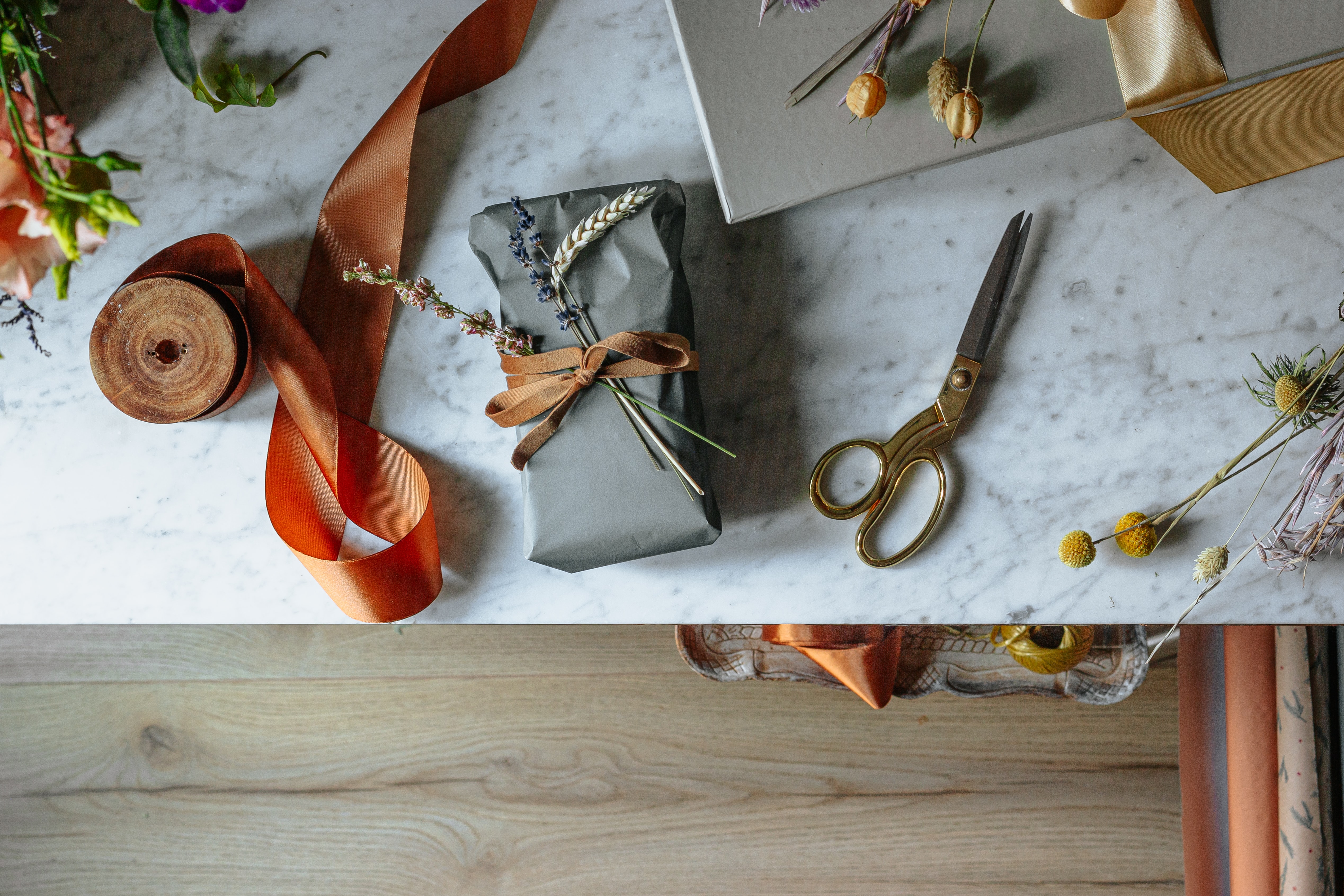 Wrapping options come from good to terrible. Wrapping paper with bits of glitter, foil and other add-ons renders it unrecyclable, meaning it either ends up in landfill straight away or is wrongly sent to recycling centres first. The same goes for cards. The takeaway here is, the more plain, the better: if you're going to wrap, pick recycled wrapping paper that's only one material so it can be recycled again. Even better, use wrapping materials you already have in your house, like old newspapers, which can be recycled.
And make sure you remove tape - even though many types of plastic can be recycled, sellotape isn't one of them and is a headache for people working at recycling centres. As an alternative to tape, you can secure presents using string or ribbon which can be easily separated from paper and can be reused for other purposes.
Even so, relying on recycling paper is problematic, as paper recycling is more accurately described as downcycling - the length and quality of fibres decreases in each cycle and it doesn't take long until your recycled paper can't be recycled anymore.
To avoid using wrapping paper, you could put unwrapped presents in a bag so that they can be pulled out lucky-dip style on Christmas eve (or Christmas day in the UK), which offers the same anticipation and element of surprise.
Secret Santa, but smarter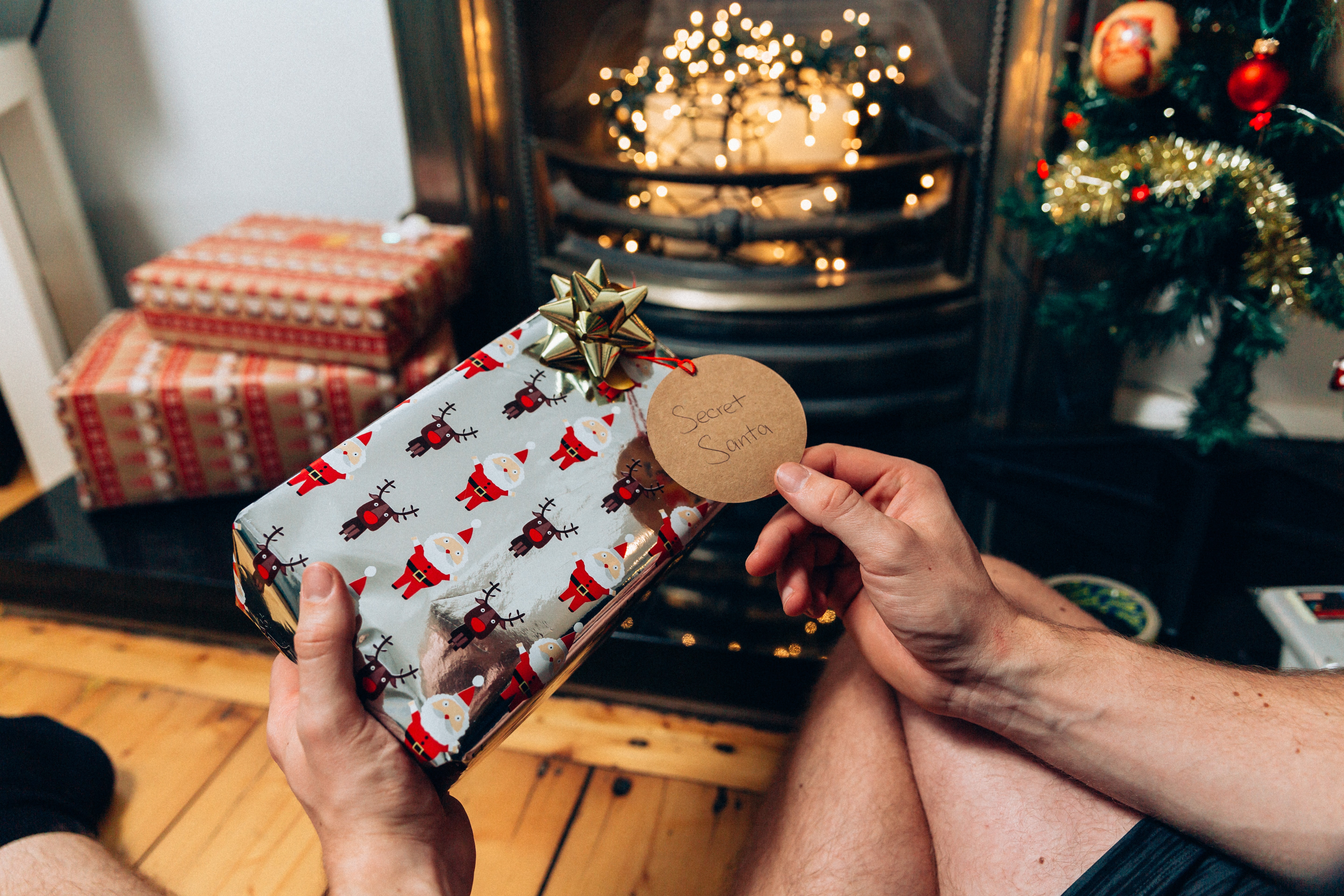 It's an increasingly common practice in friendship and work groups to organise Secret Santa - in which every person in the group is randomly allocated another person, for whom they have to buy a present. This often comes with the stress of not knowing a person well enough to be able to choose an appropriate present, and people receiving things they didn't want or need.
A very simple solution to these problems is using a site like drawnames which not only allocates people to each other, but allows everyone in the group to write their personal wishlist and access everyone else's, as well as asking each other questions anonymously. This allows everyone to receive a present they're satisfied with without spoiling the anonymity of Secret Santa.
A sustainable Christmas dinner
The most sustainable way to have a Christmas meal is to go vegan or vegetarian, but evening swapping out certain kinds of meat can make a huge difference. According to research at the University of Sheffield, the biggest environmental impact of Christmas dinner comes from the meat, and choice of meat can change the carbon footprint of a meal by up to 70%. Lamb has a 50% higher carbon footprint than beef, but turkey only has a quarter of the impact of lamb. Even swapping out half of your meat for vegetarian equivalents can make a big difference. There are lots of creative recipes on the internet, for example vegan lentil roasts, wellingtons and meatballs here.
Another problem with Christmas dinner is the waste. Most people buy and prepare much more food than they can consume or store, and it's estimated that the UK generates almost 300 000 tonnes of food waste in the Christmas period.
One way to reduce waste is to allow people to serve themselves food, rather than pre-plating it: food that's left in a communal dish can be stored for later, whereas leftovers on someone's plate will always be thrown away. Organising your fridge and freezer space to accommodate leftovers is a great way to save food and money. And sticking to your shopping list rather than impulsively buying what's on discount at the supermarket ensures you don't end up with an avalanche of uneaten mince pies.
If you don't have space to store leftovers yourself, you could also consider donating leftovers to a food bank, especially if you have unopened tins of vegetables or jars of chutney lying around. It's also really easy to sign up to OLIO, a platform for redistributing leftover food to people in your area; if you have uneaten food after a Christmas party, for example, a volunteer can come to pick it up for free and redistribute it in the local community. Any food counts, as long as it's still good to eat.
Find sustainable gifts on the Ecular Directory
If you're aiming for zero-waste presents, consider buying your loved ones experiences, creating DIY presents like paintings or poems, or digital gifts like a fun video recollecting the past year.
Maybe you already know you want to buy someone a t-shirt, or maybe they're really into coffee and could do with a reusable travel cup, or maybe they've asked for natural skincare - but you also care about shopping consciously and ethically. At Ecular, we've been developing a directory of products that fit into the vision of a circular economy: brands that have designed products to reduce waste, use more responsible materials and reduce emissions.
You can browse the brands we've selected here.
To the Christmases to come
We're not asking you to cancel Christmas, but if you're interested reducing your environmental impact this season, there are lots of ways you can integrate sustainable values into your Christmas festivities. If the world continues to make an effort to take climate change seriously, Santa will hopefully still have his job in a hundred years' time, and future generations will still be able to enjoy Christmas trees, snowy walks and grumbling about the same overplayed Christmas songs.
We're wishing all of our readers a very happy and peaceful Christmas and are excited about what next year has to bring for Ecular!